176th ASA Company - 76th ASA SOU
USASAFS - TAIWAN
Shu Lin Kou Air Staton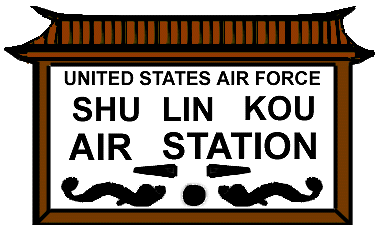 Those of you sober enough to remember the main gate
as we passed in/out on our way to and from Taipei should recognize
the sign rendering done by "Maddog" Mike Doran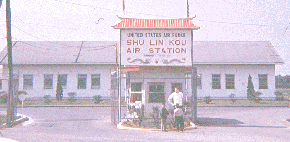 Picture of main gate Shu Lin Kou by Dick Betchel - Mandan, ND
"... I just returned from a ten day trip to the island and was amazed at how things have changed, for the worst, I'm afraid. I don't ever remember it being so hot and humid. The rice paddies past San Chung and across the valley to Linkou no longer exist -- all built up. Linkou is a well-to-do suburb, so I'm told. There are now trees lining Chungshan bei-lu (which is nice, but I preferred it the way it was before). The Linkou Club is a restaurant, and the MAAG compound is an open field. Taichung is a major metropolitan area of over a million. The Ambassador Hotel is there, but my favorite drinking spot, the Sky View Lounge, has been rennovated as a restaurant.
All very sickening. ... "
"... The old "63 Club," the NCO club across the Keelung River has now become the American Club, so that remains.
The district around the old Linkou Club area is still a bar district, of sorts. Bars are now called "Pubs," and the guide books call the haven, "Sugardaddy Alley," a carryover from the old days. What remains? The taxicab drivers are as crazy as ever,
and the women as beautiful. Cheers."

Bruce Redwine, 76th USASASOU, 65-66ýÿ - Theirflosi@aol.com