How This Whole ASA Veteran Database Effort Got Started - 1995
Reprinted from the Fremont (Nebraska) Tribune
Old Letters Lead
to Veterans' Reunion
By Tammy Real-McKeighan
Tribune Staff
It all began with a shoe box full of letters.
Vern Greunke was sorting through his mother's belongings after the local woman
went to live in a nursing home two years ago. In the process, he found the shoe box.
Inside were all the letters he'd written from Vietnam to his parents in Nebraska. The
Cedar Bluffs man didn't know the letters would start him on a computer search for his
fellow veterans and lead to a reunion.
But the letters brought a wave of nostalgia. Years ago, Greunke enlisted in the
U.S. Army. He was 21 when he went to Vietnam in 1966. His job involved finding the
location of Viet Cong shortwave radio transmitters in a thick jungle area called The Iron
Triangle. The area, just north of Saigon, was an enemy stronghold, he said.
Greunke spent a year moving from place to place. He often worked out of fox
holes protected by sandbags. Eating off a plate was a rarity, and he was 'in country' for
three months before he got a hot shower.
At first, Greunke was excited about his assignment and planned to re-enlist. But
as the months wore on, boredom, fatigue, a near-death experience and a case of dysentery
took their toll. Soon, he was counting the days until this tour of duty ended.
In the meantime, Greunke made friends with this men in his unit. His letters
home were filled with stories about buddies and daily experiences. He thanked his
parents for packages of Kool-Aid that made the water more bearable to drink, and even
wrote about buddies who had been wounded.
After finding the letters Greunke knew he wanted to locate his friends. He
remembered his uncle talking about World War II ship reunions and showing
photographs of his buddies.
'I thought that it was too bad that we couldn't do that,' Greunke said.
Greunke began by purchasing a CD ROM (drive) for his computer and a CD that
contained 70 million telephone numbers. In January, he started inserting his buddies'
names and last-known hometowns into the computer.
Before long, the computer was providing some much-needed information. His
first find was a friend named Maurice 'Curly' Kollstedt.
'He was just estatic,' Greunke said.
Kollstedt said he had contemplated placing newspaper ads in hopes of finding his
fellow soldiers when Greunke called.
Greunke kept contacting other veterans, locating nine out of the 13 in his unit.
Only one call didn't go as planned. Greunke was trying to contact Orville 'Butch'
Browning. He reached the man's widow instead.
'He died six weeks ago,' the woman said, explaining that her husband had
suffered from throat cancer.
'I didn't know that to say,' Greunke said. 'If we could have just found him a little
sooner ... He was a real good guy.'
Greunke's other buddies were sad, too. Two lived only a few hours from
Browning and would have visited him in the hospital and shared memories with their
friend before his death.
That never happened, but Greunke wanted to reach as many other veterans as
possible.
The men eventually decided to meet during a Vietnam veterans reunion in
Indianapolis. The 330th (Radio Research Company - ASA) of which they were a part
was 'piggy-backing' its reunion onto that statewide event.
Only four of the nine men attended. But after 28 years, their reunion was a happy
one.
'We kind of stood there in disbelief that it was really happening ... it was
emotional,' Greunke said.

For the next three days, the men talked. One man, Harry King, told about firing
into the darkness at enemy 'shadows' that appeared to be crawling over a fence. Two
American gunships (airplanes) were firing on the area, so the man doesn't know if his
gunfire killed anyone. But the next morning, he saw that the ground was littered with the
bodies of Viet Cong soldiers, women and children. It was a bad memory he harbored for
years. Now, at least, he could share it with people who really understood.
During the reunion, Greunke also distributed copies of a book he made from his
letters. The veterans hoped to have more reunions and perhaps even bring their families.
One night after the reunion, Kollstedt telephoned Greunke.
'I want to thank you one more time for getting us all together,' he said.
Greunke knew all the work was worth it.
'I felt so good.' he said.
Ammendum to the story.

At first I put the names and numbers of my PRD-1 teammates from Vietnam in a
database. Then later I added the names of all the people that were contacted for the
1995 reunion of the 330th. I also added the names of the ships roster of the U.S. Hugh J. Gaffey, that carried us to Vietnam in hopes that others might know the addresses to help find everyone.
Later at the urging of Mark Scott, (ASAVETS on AOL) I expanded my efforts to include a registration page on the internet and now there are well over 26,000 records of Army Security Agency Veterans dating from it's beginning in 1945 to it's reassignment in 1976.
Beller's Fellars - The Book, The CD , The DVD, and The Video are all efforts to keep our memories
from fading. The 'Beller' of course is the name of the Sgt. in charge of our team.
Staff Sgt. Russell W. Beller - whom we more affectionally referred to as 'Uncle Russ'.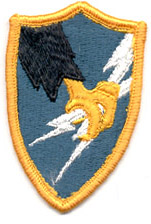 Old Crow & White Lightning
LFCF Patch


Order Here!!

$5
postage paid

Vern Greunke
PO Box 124
Cedar Bluffs, Nebraska
68015

or Pay Pal $5
to: heyvern@asalives.com


Your Support is Always
Greatly Appreciated!!