10/19/97 15:34
146th Radio Research Co(Avn)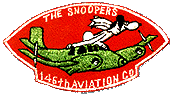 Lineage and Honors
Courtesy of Dennis Buley
---

---
When first organized, the 146th RR Co was assigned six RU-6A, seven RU-8D and one CV-2B, nicknamed PATHFINDER. This aircraft was used between January 1966 to April 1967 when it was turned over to the USAF. Unique among the ASA units in Vietnam, the 146th also flew the RU-1A between March 1967 until January 1971. The RU-21D.arrived in the 146th beginning in December 1968.

In 1971, the 146th turned in its RU-6A aircraft. In 1972, the 146th only operated the RU-8D, all RU-21Ds being transferred to the 138th RR Co to simplify the maintenance situation with regard to the AN/ASN-86 INS. At this time the 146th was also responsible for support in both the II and IV CTZs.
During its service in Vietnam, the 146th RR Co did not suffer any fatalities.


---
Co. HQ - Dates
---
Long Thanh North Jan 1970 - Aug 1972
Can Tho Aug 1972 - 17 February 1973
---

---