Army Security Agency - Radio Research Units - 372nd RRC
372nd RADIO RESEARCH CO.
History, Pictures and Guestbooks
(Patch design was a joint design effort of Buck Buchanan & Arne Mahlum)
372nd RRC REUNION 1998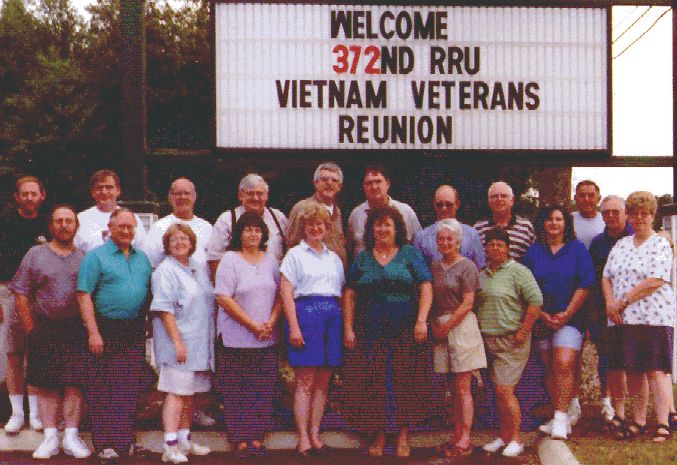 THE 372 RRC 2nd ANNUAL REUNION
back l-r: Ron Wolfe, Ken Becker, Jack Miller, Alvin Bartlett, Duane Reed, Terry West,
Denzel Lee Archer, Gordy Maufort, Billy Ray Hocutt, Reg Roberts
front l-r: John Watje, Warren Muench, Deb Miller, Mary Alice Bartlett, Sandy Reed,
Beth West, Mary Archer, Nancy Maufort, Carla Hocutt, Donna Roberts



REUNION 3 - WYOMING '99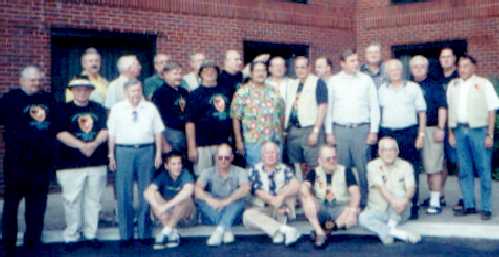 REUNION 4 - NASHVILLE '00
Click this link to view Pictures of this Reunion
REUNION 5 - FAYETTEVILLE- "FayetteNam", NC - 2001
UNIT HISTORY
of the 372nd RRC - (ASA) Company
The 372d ASA Company originated with A Company, 303d ASA Battalion.
Coincident with the buildup of U.S. forcesin 1965-66, the company was alerted for deployment to Vietnam in early 1966. In keeping with the practice at the time, the company was redesignated the 16th Radio Research Unit. It arrived in Cu Chi in March 1966. The 16thRRU was later reorganized and redesignated the 372d Radio Research Company.During it's tour in Vietnam, the 372d supported the 25th Infantry Division and operated in the areas of Kontum, Tay Ninh, Dau Tieng, Nui BaDen, Go Da Hau and Trang Bang as well as numerous other locations and firebases.
The 372d served in Vietnam until it departed for the United States in March1971.
The company was rebased in Hawaii and continued to serve
in support of the 25th Infantry Division.
It also reverted to its ASA designation- the 372d ASA Company.
(The above information was fromthe "Guano", newsletter for vets of the
372d Radio Research Company published by Buck Buchanan.
GUANO Issue No. 6 - by Buck Buchanan GUAN OIssue No. 11 - Page 1
Read Guestbook #1 (Archived)